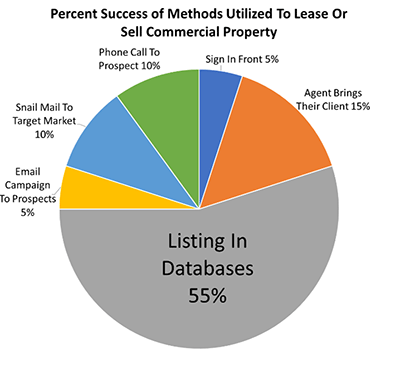 If you own commercial property rentals and need to find a tenant for your vacant space or find a buyer for your property, you will need to know about the strategies and technology that can bring results. The days are long gone when you can just put up a sign and wait for phone calls, especially in smaller markets, where the average time to lease or sell commercial property is often 12 months or longer. Whether you own an office building and are looking for qualified tenants, or a shopping center and seeking out the best mix of retailers, or a warehouse and wanting a tenant that won't damage the foundation or a hotel to confidentially sell, you will want to be knowledgeable about how the experts you hire to bring you tenants and buyers go about representing you and leaving no stone unturned. This article explains the strategies successful brokers utilize to find tenants and buyers.
Where can you find qualified tenants to lease vacant space? The best tenants will find you, because they already have an idea where they want to be and what part of town makes their retail store feasible. Retail tenants want high consumer spending nearby but office tenants want employees to enjoy working there because access is easy and after work activities are plentiful. Retail tenants will know traffic counts and consumer spending criteria that dictate where they will be successful, but technology available in 2022 provides much more information about consumer spending than just traffic count, population numbers and income.
The research firm ESRI drills down into consumer spending patterns and can tell you household spending in thousands of categories, such as how much the average household spends on dining out, as well as total spending broken down into zip codes but also can estimate spending by areas as small as a few blocks. Would it help a coffee shop owner to know how much money is spent on coffee within a 5 minute drive time for a certain location? Would dentists need to know how much is spent on dental care by residents within a 5 minute drive time? Spending on food away from home for a prospective grocery store? If you own commercial property, you can use that data to find successful tenants. Landlords who utilize this sophisticated research will find rent price negotiation is less of a factor because landlords can promote the location's competitive advantage. The top agents and brokers research this ESRI data and reach out to specific target markets and propose locating in a certain area because the tenant's business will be more profitable.
Finding Tenants For Your Commerical Property
So how do successful commercial agents and brokers in New Orleans find tenants to lease space or buy property? The pie chart above shows the 6 common marketing channels, and the best strategy is listing a property in commercial databases where tenants and buyers search. In Louisiana and Mississippi, there are 4 commercial databases and while each database has its own reach and costs range from $1,000 to $30,000 annually, no one database can be called the best. Here is a review of each database and its strengths:
LACDB
The Louisiana Commercial Database (LACDB.com) reaches 1,500 commercial agent members in Louisiana who post 8,539 listings, with 4,007 properties for sale and 4,532 for lease. The database also has 314 commercial listings in Mississippi, with 187 for sale and 127 for lease. Costs for subscribing to the database are $700 annually and agents can have their listings populate their website for an additional $800 annually. Agents must pay approximately $450 annually to join the local Association of Realtors before they can subscribe to the database. This database reaches Louisiana and Mississippi agents and brokers because subscriptions are the least expensive.
MSCREX
Mississippi Commercial Real Estate Exchange has 106 members who are commercial real estate agents and brokers, with 1,284 listings divided into 680 for sale and 604 for lease.
The database is owned by the Mississippi Association of Realtors, so the cost is about $500 annually to join the Association of Realtors and an additional $600 annually to subscribe to the database which allows you to post listings.
LOOPNET
Loopnet.com has 1,100,000 properties listed by 300,000 commercial agents nationwide. The marketplace gets 11,000,000 unique visitors monthly. For its massive size, Loopnet.com only has 656 listings for sale and 981 for lease in Louisiana, and in Mississippi has 788 for lease and 726 for lease.
This database brings in tenants and investors both locally and nationwide. Loopnet offers subscribers just 10 listings for $8,400 annually and promises subscribers page 1 search results for a diamond subscription of $30,000 annually, making it out of reach for most local agents.
CREXI
CREXI.com has 1 million commercial real estate agent subscribers but an average 2 million buyers, brokers, and tenants each month exploring over $2 trillion of property value nationwide.
Crexi has 1,789 properties in Mississippi for sale and 1,159 for lease, and 2,561 for sale in Louisiana and 3,126 for sale. Crexi Pro cost $2,700 annually.
In Summary, Commerical Property
Databases Are Not Created Equal
In utilizing a database to reach tenants and commercial agents directly, not all databases are the same. Most local agents who can bring tenants and buyers to a listing subscribe to LACDB.com since it is the most affordable. LACDB only reaches 1,500 agents so, in the chart above, their agent count column is barely visible when compared to the other databases; however, those are the local agents who often have qualified tenants and buyers as their clients and are seriously looking for property in Louisiana and Mississippi.
CREXI is a fairly new database but already has almost as many Louisiana and Mississippi listings as LACDB, but also provides a national reach with 1,000,000 agents and investors as subscribers.
Loopnet recently merged with CoStar and gets Louisiana and Mississippi property in front of prospective tenants and buyers nationally. If your property is above average in size, you may not find tenants or buyers easily because the Louisiana/Mississippi economy no longer brings large companies to the area. If you need to reach larger markets such as Houston, Dallas, Nashville or Miami, this database is for you. The larger markets get your property in front of larger companies with more employees so they are the ones who need more space and larger buildings.