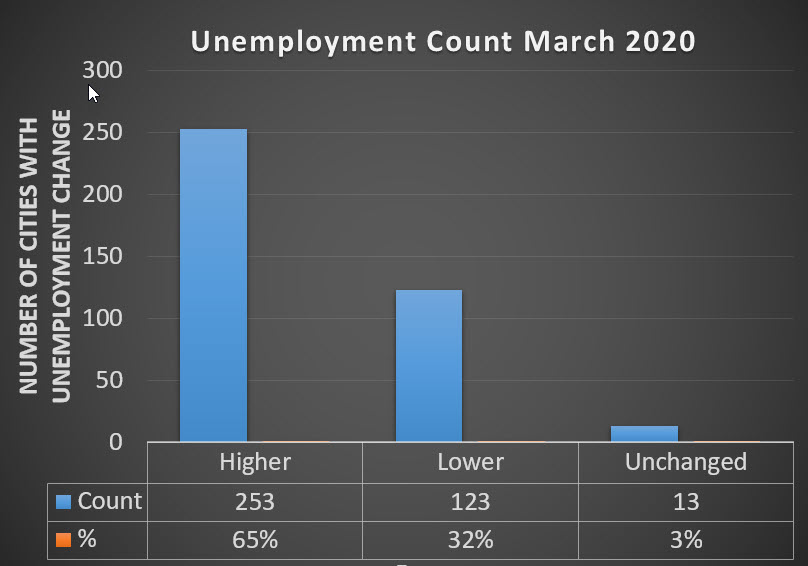 The latest unemployment numbers show, compared to one year ago, 32% of 389 city metropolitan areas actually had lower unemployment rates, meaning a higher percent of workers had jobs, leaving 65% with higher unemployment and 3% unchanged compared to 12 months ago.
---
Louisiana Ranks Worst In Unemployment for Its Size
The average unemployment rate was 4.5%, and 226 metropolitan cities had rates below average, 150 cities had rates above average and 13 cities equaled the average. The U.S. map shows only the metropolitan cities with the highest unemployment. Louisiana has 8 cities with an unemployment rate 5.6% and higher, including Monroe with the highest at 6.9%, followed by Hammond at 6.8%. Only 3 other states have that many major cities with 5.6% unemployment or higher:
California, with 8 times Louisiana's population.
Pennsylvania, with 3 times Louisiana's population.
Ohio, with 3 times Louisiana's population.
---
Best Metropolitan Cities For Jobs
So where are the big cities with the best prospects for work? Not Texas, not California and not New York. The states with the highest number of metropolitan cities with the lowest unemployment rate and the most jobs are:
Alabama-6 cities.
Idaho-6 cities.
Indiana-7 cities.
Wisconsin-9 cities.
South Carolina-6 cities.
---
List of 389 Metropolitan Statistical Area Cities' Unemployment Rates
| | |
| --- | --- |
| Metropolitan Statistical Area | Unemployment Rate |
| Kahului-Wailuku-Lahaina, HI | 2.1 |
| Urban Honolulu, HI | 2.1 |
| Ames, IA | 2.2 |
| Idaho Falls, ID | 2.4 |
| Ann Arbor, MI | 2.4 |
| Madison, WI | 2.4 |
| Boise City, ID | 2.5 |
| Columbus, IN | 2.5 |
| Dover-Durham, NH-ME NECTA | 2.5 |
| Oklahoma City, OK | 2.5 |
| Charleston-North Charleston, SC | 2.5 |
| Champaign-Urbana, IL | 2.6 |
| Manhattan, KS | 2.6 |
| Manchester, NH NECTA | 2.6 |
| Portsmouth, NH-ME NECTA | 2.6 |
| Grand Rapids-Wyoming, MI | 2.7 |
| Fargo, ND-MN | 2.7 |
| Columbia, SC | 2.7 |
| Greenville-Anderson-Mauldin, SC | 2.7 |
| Hilton Head Island-Bluffton-Beaufort, SC | 2.7 |
| Burlington-South Burlington, VT NECTA | 2.7 |
| Huntsville, AL | 2.8 |
| Pocatello, ID | 2.8 |
| Twin Falls, ID | 2.8 |
| Bloomington, IL | 2.8 |
| Elkhart-Goshen, IN | 2.8 |
| Iowa City, IA | 2.8 |
| Portland-South Portland, ME NECTA | 2.8 |
| Lawton, OK | 2.8 |
| Tulsa, OK | 2.8 |
| Spartanburg, SC | 2.8 |
| Nashville-Davidson–Murfreesboro–Franklin, TN | 2.8 |
| Appleton, WI | 2.8 |
| Oshkosh-Neenah, WI | 2.8 |
| Sheboygan, WI | 2.8 |
| Wausau, WI | 2.8 |
| Decatur, AL | 2.9 |
| Lafayette-West Lafayette, IN | 2.9 |
| Lawrence, KS | 2.9 |
| Bismarck, ND | 2.9 |
| Enid, OK | 2.9 |
| Corvallis, OR | 2.9 |
| Logan, UT-ID | 2.9 |
| Charlottesville, VA | 2.9 |
| La Crosse-Onalaska, WI-MN | 2.9 |
| Auburn-Opelika, AL | 3 |
| Birmingham-Hoover, AL | 3 |
| Daphne-Fairhope-Foley, AL | 3 |
| Indianapolis-Carmel-Anderson, IN | 3 |
| Boston-Cambridge-Nashua, MA-NH NECTA | 3 |
| Lansing-East Lansing, MI | 3 |
| Columbia, MO | 3 |
| Staunton-Waynesboro, VA | 3 |
| Fond du Lac, WI | 3 |
| Tuscaloosa, AL | 3.1 |
| Springfield, IL | 3.1 |
| California-Lexington Park, MD | 3.1 |
| Mankato-North Mankato, MN | 3.1 |
| Sioux Falls, SD | 3.1 |
| Midland, TX | 3.1 |
| Harrisonburg, VA | 3.1 |
| Winchester, VA-WV | 3.1 |
| Lewiston, ID-WA | 3.2 |
| Carbondale-Marion, IL | 3.2 |
| Fort Wayne, IN | 3.2 |
| Kalamazoo-Portage, MI | 3.2 |
| Grand Forks, ND-MN | 3.2 |
| Florence, SC | 3.2 |
| Green Bay, WI | 3.2 |
| Dothan, AL | 3.3 |
| Fayetteville-Springdale-Rogers, AR-MO | 3.3 |
| Washington-Arlington-Alexandria, DC-VA-MD | 3.3 |
| Bloomington, IN | 3.3 |
| Evansville, IN-KY | 3.3 |
| Topeka, KS | 3.3 |
| Lewiston-Auburn, ME NECTA | 3.3 |
| Trenton, NJ | 3.3 |
| Milwaukee-Waukesha-West Allis, WI | 3.3 |
| Montgomery, AL | 3.4 |
| San Jose-Sunnyvale-Santa Clara, CA | 3.4 |
| Gainesville, GA | 3.4 |
| Monroe, MI | 3.4 |
| Minneapolis-St. Paul-Bloomington, MN-WI | 3.4 |
| Rochester, MN | 3.4 |
| Amarillo, TX | 3.4 |
| Provo-Orem, UT | 3.4 |
| Richmond, VA | 3.4 |
| Roanoke, VA | 3.4 |
| San Francisco-Oakland-Hayward, CA | 3.5 |
| Danbury, CT NECTA | 3.5 |
| Wichita, KS | 3.5 |
| Baltimore-Columbia-Towson, MD | 3.5 |
| Jackson, MI | 3.5 |
| Portland-Vancouver-Hillsboro, OR-WA | 3.5 |
| Knoxville, TN | 3.5 |
| Austin-Round Rock, TX | 3.5 |
| Florence-Muscle Shoals, AL | 3.6 |
| Santa Rosa, CA | 3.6 |
| Des Moines-West Des Moines, IA | 3.6 |
| Worcester, MA-CT NECTA | 3.6 |
| Jefferson City, MO | 3.6 |
| Billings, MT | 3.6 |
| Asheville, NC | 3.6 |
| Durham-Chapel Hill, NC | 3.6 |
| Rapid City, SD | 3.6 |
| Virginia Beach-Norfolk-Newport News, VA-NC | 3.6 |
| New Haven, CT NECTA | 3.7 |
| Crestview-Fort Walton Beach-Destin, FL | 3.7 |
| Bangor, ME NECTA | 3.7 |
| Battle Creek, MI | 3.7 |
| Great Falls, MT | 3.7 |
| Ithaca, NY | 3.7 |
| Raleigh, NC | 3.7 |
| Sumter, SC | 3.7 |
| Chattanooga, TN-GA | 3.7 |
| College Station-Bryan, TX | 3.7 |
| Lubbock, TX | 3.7 |
| Eau Claire, WI | 3.7 |
| San Luis Obispo-Paso Robles-Arroyo Grande, CA | 3.8 |
| Danville, IL | 3.8 |
| South Bend-Mishawaka, IN-MI | 3.8 |
| Sioux City, IA-NE-SD | 3.8 |
| Niles-Benton Harbor, MI | 3.8 |
| Lincoln, NE | 3.8 |
| Jackson, TN | 3.8 |
| Ogden-Clearfield, UT | 3.8 |
| Salt Lake City, UT | 3.8 |
| Cheyenne, WY | 3.8 |
| Anniston-Oxford-Jacksonville, AL | 3.9 |
| Jonesboro, AR | 3.9 |
| Hartford-West Hartford-East Hartford, CT | 3.9 |
| Gainesville, FL | 3.9 |
| Coeur d'Alene, ID | 3.9 |
| Peoria, IL | 3.9 |
| Hagerstown-Martinsburg, MD-WV | 3.9 |
| Springfield, MA-CT NECTA | 3.9 |
| Midland, MI | 3.9 |
| Kansas City, MO-KS | 3.9 |
| Springfield, MO | 3.9 |
| Missoula, MT | 3.9 |
| Charlotte-Concord-Gastonia, NC-SC | 3.9 |
| Bend-Redmond, OR | 3.9 |
| Cleveland, TN | 3.9 |
| Lynchburg, VA | 3.9 |
| Napa, CA | 4 |
| Boulder, CO | 4 |
| Bridgeport-Stamford-Norwalk, CT NECTA | 4 |
| Miami-Fort Lauderdale-West Palm Beach, FL | 4 |
| Naples-Immokalee-Marco Island, FL | 4 |
| Muncie, IN | 4 |
| St. Louis, MO-IL | 4 |
| New York-Newark-Jersey City, NY-NJ-PA | 4 |
| Hickory-Lenoir-Morganton, NC | 4 |
| Wilmington, NC | 4 |
| Winston-Salem, NC | 4 |
| Eugene, OR | 4 |
| Salem, OR | 4 |
| Abilene, TX | 4 |
| San Angelo, TX | 4 |
| Blacksburg-Christiansburg-Radford, VA | 4 |
| Janesville-Beloit, WI | 4 |
| San Diego-Carlsbad, CA | 4.1 |
| Norwich-New London-Westerly, CT-RI NECTA | 4.1 |
| Kokomo, IN | 4.1 |
| Dubuque, IA | 4.1 |
| Leominster-Gardner, MA NECTA | 4.1 |
| Muskegon, MI | 4.1 |
| Joplin, MO | 4.1 |
| St. Joseph, MO-KS | 4.1 |
| Albany-Schenectady-Troy, NY | 4.1 |
| Burlington, NC | 4.1 |
| Johnson City, TN | 4.1 |
| Bremerton-Silverdale, WA | 4.1 |
| Mobile, AL | 4.2 |
| Fort Smith, AR-OK | 4.2 |
| Fort Collins, CO | 4.2 |
| North Port-Sarasota-Bradenton, FL | 4.2 |
| Orlando-Kissimmee-Sanford, FL | 4.2 |
| Tallahassee, FL | 4.2 |
| Athens-Clarke County, GA | 4.2 |
| Atlanta-Sandy Springs-Roswell, GA | 4.2 |
| Augusta-Richmond County, GA-SC | 4.2 |
| Savannah, GA | 4.2 |
| Warner Robins, GA | 4.2 |
| Davenport-Moline-Rock Island, IA-IL | 4.2 |
| Kankakee, IL | 4.2 |
| Terre Haute, IN | 4.2 |
| Cedar Rapids, IA | 4.2 |
| Waterloo-Cedar Falls, IA | 4.2 |
| St. Cloud, MN | 4.2 |
| Kingston, NY | 4.2 |
| Gettysburg, PA | 4.2 |
| Kingsport-Bristol-Bristol, TN-VA | 4.2 |
| Morristown, TN | 4.2 |
| San Antonio-New Braunfels, TX | 4.2 |
| Wichita Falls, TX | 4.2 |
| St. George, UT | 4.2 |
| Cape Coral-Fort Myers, FL | 4.3 |
| Jacksonville, FL | 4.3 |
| Pensacola-Ferry Pass-Brent, FL | 4.3 |
| Tampa-St. Petersburg-Clearwater, FL | 4.3 |
| Brunswick, GA | 4.3 |
| Flint, MI | 4.3 |
| Cape Girardeau, MO-IL | 4.3 |
| New Bern, NC | 4.3 |
| Myrtle Beach-Conway-North Myrtle Beach, SC | 4.3 |
| Memphis, TN-MS-AR | 4.3 |
| Dallas-Fort Worth-Arlington, TX | 4.3 |
| Sherman-Denison, TX | 4.3 |
| Walla Walla, WA | 4.3 |
| Morgantown, WV | 4.3 |
| Racine, WI | 4.3 |
| Gadsden, AL | 4.4 |
| Little Rock-North Little Rock-Conway, AR | 4.4 |
| Palm Bay-Melbourne-Titusville, FL | 4.4 |
| Panama City, FL | 4.4 |
| Rome, GA | 4.4 |
| Decatur, IL | 4.4 |
| Hattiesburg, MS | 4.4 |
| Omaha-Council Bluffs, NE-IA | 4.4 |
| Greensboro-High Point, NC | 4.4 |
| Greenville, NC | 4.4 |
| Columbus, OH | 4.4 |
| Lancaster, PA | 4.4 |
| State College, PA | 4.4 |
| Odessa, TX | 4.4 |
| Valdosta, GA | 4.5 |
| Michigan City-La Porte, IN | 4.5 |
| Lexington-Fayette, KY | 4.5 |
| Louisville/Jefferson County, KY-IN | 4.5 |
| Saginaw, MI | 4.5 |
| Jackson, MS | 4.5 |
| Santa Fe, NM | 4.5 |
| Goldsboro, NC | 4.5 |
| Albany, OR | 4.5 |
| Tyler, TX | 4.5 |
| Waco, TX | 4.5 |
| Olympia-Tumwater, WA | 4.5 |
| Casper, WY | 4.5 |
| Oxnard-Thousand Oaks-Ventura, CA | 4.6 |
| Denver-Aurora-Lakewood, CO | 4.6 |
| Greeley, CO | 4.6 |
| Macon-Bibb County, GA | 4.6 |
| Rockford, IL | 4.6 |
| Pittsfield, MA NECTA | 4.6 |
| Cincinnati, OH-KY-IN | 4.6 |
| Medford, OR | 4.6 |
| Bellingham, WA | 4.6 |
| Phoenix-Mesa-Scottsdale, AZ | 4.7 |
| Sacramento–Roseville–Arden-Arcade, CA | 4.7 |
| Hinesville, GA | 4.7 |
| Bay City, MI | 4.7 |
| Grand Island, NE | 4.7 |
| Rochester, NY | 4.7 |
| Hot Springs, AR | 4.8 |
| Columbus, GA-AL | 4.8 |
| Chicago-Naperville-Elgin, IL-IN-WI | 4.8 |
| Harrisburg-Carlisle, PA | 4.8 |
| Clarksville, TN-KY | 4.8 |
| Deltona-Daytona Beach-Ormond Beach, FL | 4.9 |
| Lakeland-Winter Haven, FL | 4.9 |
| Port St. Lucie, FL | 4.9 |
| Punta Gorda, FL | 4.9 |
| Detroit-Warren-Dearborn, MI | 4.9 |
| Duluth, MN-WI | 4.9 |
| Elmira, NY | 4.9 |
| Syracuse, NY | 4.9 |
| Jacksonville, NC | 4.9 |
| Dayton, OH | 4.9 |
| Providence-Warwick, RI-MA NECTA | 4.9 |
| Killeen-Temple, TX | 4.9 |
| Fairbanks, AK | 5 |
| Vallejo-Fairfield, CA | 5 |
| Waterbury, CT NECTA | 5 |
| York-Hanover, PA | 5 |
| El Paso, TX | 5 |
| Prescott, AZ | 5.1 |
| Riverside-San Bernardino-Ontario, CA | 5.1 |
| Sebastian-Vero Beach, FL | 5.1 |
| Dalton, GA | 5.1 |
| Gulfport-Biloxi-Pascagoula, MS | 5.1 |
| Utica-Rome, NY | 5.1 |
| Grants Pass, OR | 5.1 |
| Philadelphia-Camden-Wilmington, PA-NJ-DE | 5.1 |
| Houston-The Woodlands-Sugar Land, TX | 5.1 |
| Victoria, TX | 5.1 |
| Anchorage, AK | 5.2 |
| Tucson, AZ | 5.2 |
| Ocala, FL | 5.2 |
| Albany, GA | 5.2 |
| Owensboro, KY | 5.2 |
| Buffalo-Cheektowaga-Niagara Falls, NY | 5.2 |
| Lebanon, PA | 5.2 |
| Laredo, TX | 5.2 |
| Mount Vernon-Anacortes, WA | 5.2 |
| Spokane-Spokane Valley, WA | 5.2 |
| New Bedford, MA NECTA | 5.3 |
| Reno, NV | 5.3 |
| Albuquerque, NM | 5.3 |
| Longview, TX | 5.3 |
| Kennewick-Richland, WA | 5.3 |
| Bowling Green, KY | 5.4 |
| Baton Rouge, LA | 5.4 |
| Toledo, OH | 5.4 |
| Chambersburg-Waynesboro, PA | 5.4 |
| Texarkana, TX-AR | 5.4 |
| Seattle-Tacoma-Bellevue, WA | 5.4 |
| Wenatchee, WA | 5.4 |
| Colorado Springs, CO | 5.5 |
| Dover, DE | 5.5 |
| Cumberland, MD-WV | 5.5 |
| Barnstable Town, MA NECTA | 5.5 |
| Glens Falls, NY | 5.5 |
| Fayetteville, NC | 5.5 |
| Rocky Mount, NC | 5.5 |
| Santa Maria-Santa Barbara, CA | 5.6 |
| Lake Charles, LA | 5.6 |
| New Orleans-Metairie, LA | 5.6 |
| Binghamton, NY | 5.6 |
| Akron, OH | 5.6 |
| Springfield, OH | 5.6 |
| Longview, WA | 5.6 |
| Los Angeles-Long Beach-Anaheim, CA | 5.7 |
| Elizabethtown-Fort Knox, KY | 5.7 |
| Houma-Thibodaux, LA | 5.7 |
| Lima, OH | 5.7 |
| Corpus Christi, TX | 5.7 |
| Salisbury, MD-DE | 5.8 |
| Atlantic City-Hammonton, NJ | 5.8 |
| Allentown-Bethlehem-Easton, PA-NJ | 5.8 |
| Reading, PA | 5.9 |
| Charleston, WV | 5.9 |
| Mansfield, OH | 6 |
| Sebring, FL | 6.1 |
| Lafayette, LA | 6.1 |
| Canton-Massillon, OH | 6.1 |
| Huntington-Ashland, WV-KY-OH | 6.1 |
| Altoona, PA | 6.2 |
| Pittsburgh, PA | 6.2 |
| Grand Junction, CO | 6.3 |
| The Villages, FL | 6.3 |
| Alexandria, LA | 6.3 |
| Vineland-Bridgeton, NJ | 6.3 |
| Shreveport-Bossier City, LA | 6.4 |
| Bloomsburg-Berwick, PA | 6.4 |
| Sierra Vista-Douglas, AZ | 6.5 |
| Homosassa Springs, FL | 6.6 |
| Parkersburg-Vienna, WV | 6.6 |
| Lake Havasu City-Kingman, AZ | 6.7 |
| Chico, CA | 6.7 |
| Carson City, NV | 6.7 |
| Las Vegas-Henderson-Paradise, NV | 6.7 |
| Beckley, WV | 6.7 |
| Redding, CA | 6.8 |
| Hammond, LA | 6.8 |
| Yakima, WA | 6.8 |
| Pine Bluff, AR | 6.9 |
| Pueblo, CO | 6.9 |
| Monroe, LA | 6.9 |
| Erie, PA | 6.9 |
| Weirton-Steubenville, WV-OH | 7 |
| Flagstaff, AZ | 7.1 |
| Youngstown-Warren-Boardman, OH-PA | 7.2 |
| Farmington, NM | 7.3 |
| Cleveland-Elyria, OH | 7.3 |
| East Stroudsburg, PA | 7.4 |
| Scranton–Wilkes-Barre–Hazleton, PA | 7.4 |
| Williamsport, PA | 7.4 |
| Brownsville-Harlingen, TX | 7.4 |
| Las Cruces, NM | 7.5 |
| Watertown-Fort Drum, NY | 7.5 |
| Beaumont-Port Arthur, TX | 7.5 |
| Wheeling, WV-OH | 7.6 |
| Johnstown, PA | 7.7 |
| Santa Cruz-Watsonville, CA | 7.9 |
| Modesto, CA | 8.3 |
| Stockton-Lodi, CA | 8.3 |
| McAllen-Edinburg-Mission, TX | 8.5 |
| Yuba City, CA | 10 |
| Madera, CA | 10.5 |
| Fresno, CA | 10.8 |
| Ocean City, NJ | 11.4 |
| Salinas, CA | 11.8 |
| Bakersfield, CA | 12 |
| Hanford-Corcoran, CA | 12.3 |
| Merced, CA | 12.9 |
| Visalia-Porterville, CA | 14.5 |
| Yuma, AZ | 14.8 |
| El Centro, CA | 20.5 |
---
For more information on jobs, Louisiana and our economic drivers, read our articles:
February 2020: Unanticipated Consequence of Reduced Affordable Housing
November 2019: New Orleans At The Top Of The Jobless List
October 2019: States Have Worse Than Average Unemployment Rates